---
How to (re)configure Outlook Express Manually:
Go to the Tools Menu and choose Accounts...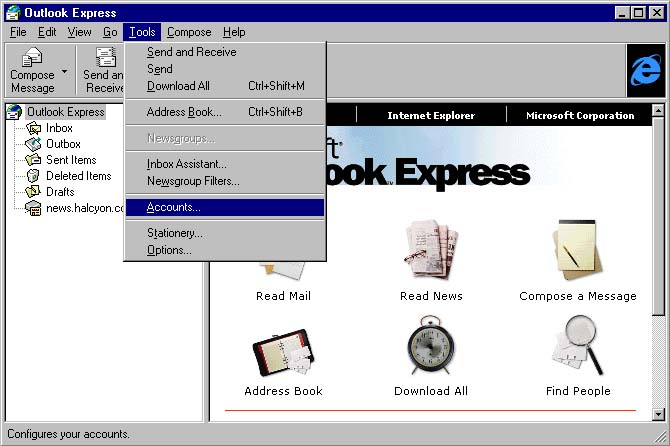 The area we will first focus on will be the mail tab. If you are setting this up for the first time, hit Add. Otherwise, make sure that you don't have any duplicate entries (so they won't check the same mailbox at the same time). Choose your NWNexus/Halcyon account and then hit the Properties button.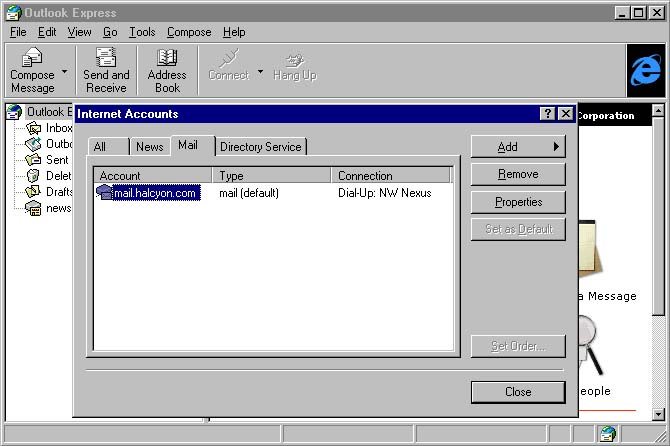 The mail account can be whatever you want to call the title of this particular account. Put your name in the Name field, business or organization in the Organization field, email address in the email address field (it's not necessary to put a reply-to address).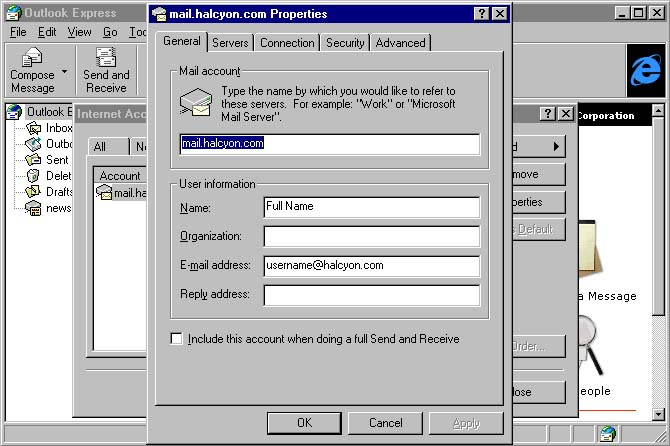 If you have a Personal, Premium, or Premium Plus dialup account, the incoming mail server is mail.nwnexus.com. If you have a POP account, the incoming mail server will be pop.halcyon.com instead.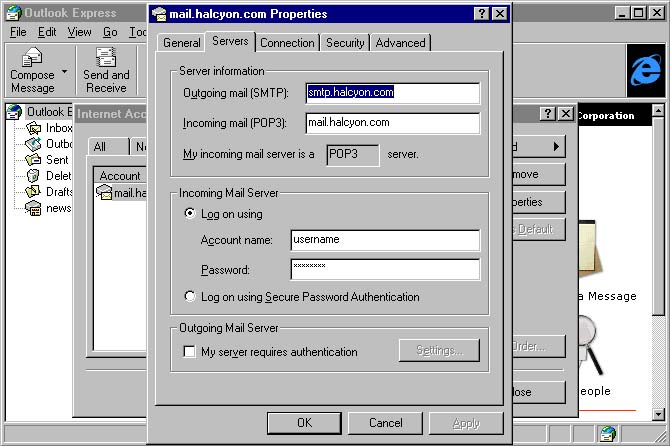 Choose modem connection unless you have other means of connecting to the internet, and choose the appropriate dialin connection.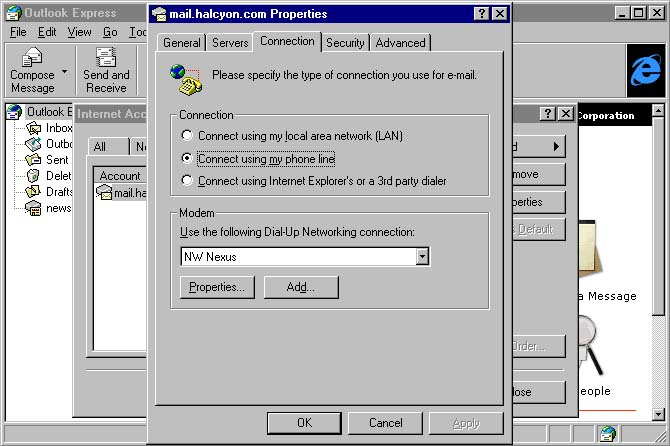 On the Advanced tab, set the timeout to 1-2 minutes. Also, you can leave a copy of the email on the server for backup purposes, or if you check your email from multiple locations. Remember to delete it though, otherwise you'll go over your 5MB server space limit eventually. You can use the nifty REMOVE FROM SERVER AFTER X DAYS feature so you don't forget. Then hit the OK button.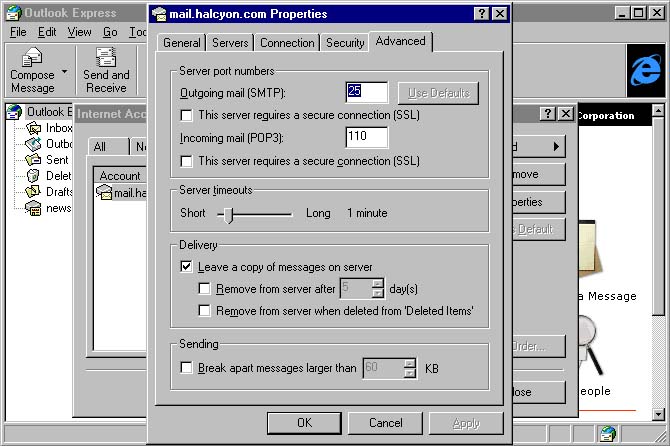 Back at the Internet Account menu, go into the News tab. Highlight your connection with us and choose properties. If you don't have anything listed here, hit Add.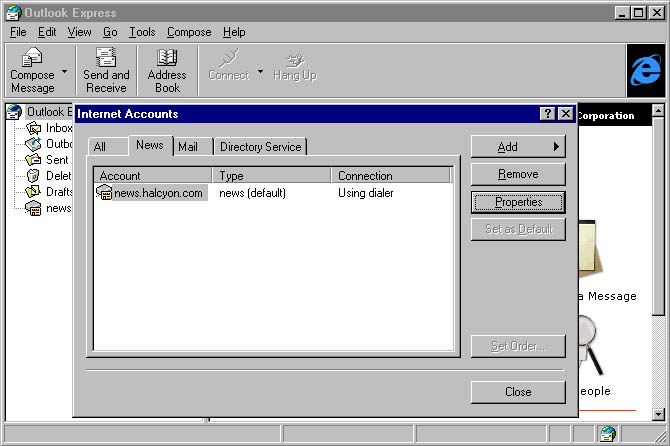 Again, in here, you can name the account whatever you'd like and fill out the appropriate information. Note: spammers like to grab people's email addresses out of newsgroups - if you'd like, request an email alias from technical support and use it until you get spammed too frequently, then cancel that alias.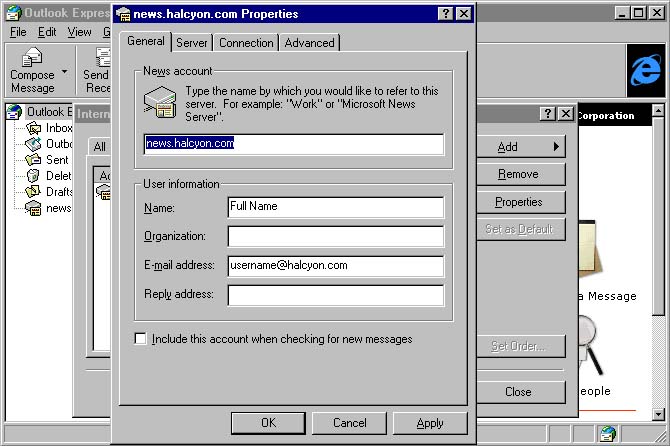 On the news tab, only put in our server, news.nwnexus.com.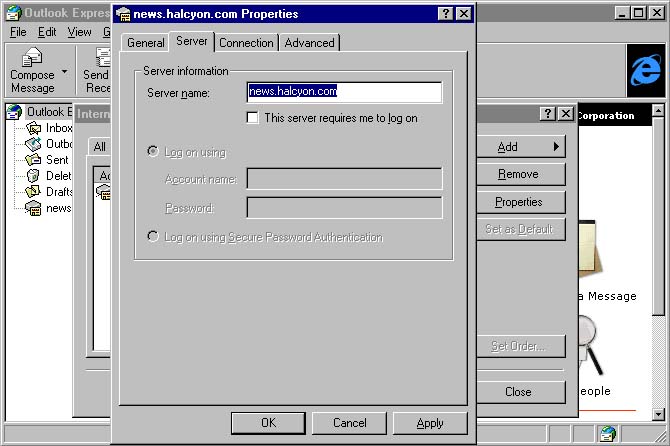 Connection tab: once again, choose the appropriate connection.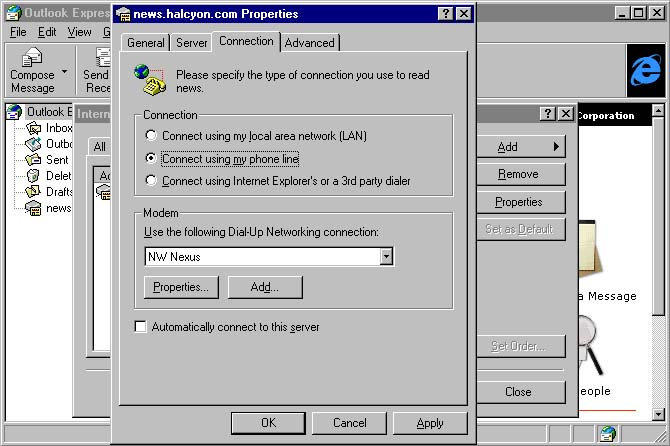 ---